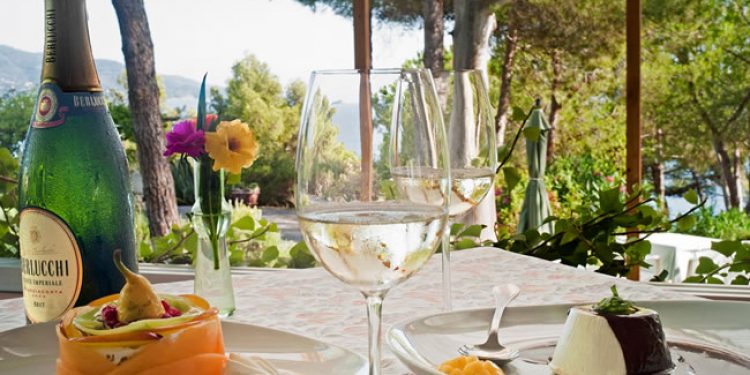 Your day at the "Capo Sud" starts in the best possible way, with breakfast served on the open air terrace (from about mid-June to mid-September), next to the lake of the nymphs and carps, with the spectacular view out over the Gulf of Stella. There is a wide range of buffet choices, including a selection of about forty sweets, savoury snacks and hot and cold drinks. Our chef always provides a cake of his own and home-made jam made with local fruit.
For lunch, there is an open-air restaurant next to the swimming pool, open from about mid-June to mid-September. Here, quick snacks are available or there is a list of choice daily fish dishes which can be ordered. Being able to eat lunch five metres from the beach without even changing clothes is a very pleasant commodity.
In the evening, a sit down dinner is served in our main restaurant; the menu provides a wide range of choices, with fish, meat and vegetarian options. The cuisine is typical home-made Italian, light and tasty, and the ingredients used are always fresh and good quality. We are committed to providing a service based on the utmost courtesy, with a well-trained staff in the dining room and kitchen.
For those who opt for the half board option, you can either eat in our restaurants at lunchtime or dinner; just inform the staff of your choice in the morning.
*Please note that the restaurant will be open from 20/05/2023 until 22/10/2023