Our private beach is located about one hundred metres from the main hotel structure in Stella Gulf. It is one of the most peaceful beaches on Elba, even during the months when the island is most crowded, and is reserved for our guests, with free umbrellas and sun beds. Adults and children can relax and swim safely in the sea under the watchful eye of our lifeguard. Since 2003, our beach has won prizes from Legambiente and the Italian Touring Club and is included in the "Guida Blu", which lists the best beaches in terms of tranquillity, cleanliness and services available.
The area where the umbrellas for our guests are arranged is sandy, the area of the shoreline is made of small and rounded stones. The sand is dark because made of iron (Elba island was once an important center for the extraction of the iron and other minerals). This does'nt involve disadvantages, indeed, largely avoids annoying stick and slide everywhere as the finest sand does. The seabed is mixed of sandy and stones area. It drops quite quickly but it is still possible for children or for less experienced people to swim safely in the shore closest area (and always under the watchful care of our lifeguards).
To better understand how our beach is made of, you can view the video on the right side of this page or by clicking on this link: "sand or rocks"?
One of our guests favourite places is located next to the beach: the picturesque swimming pool, which overlooks the sea, with magnificent views over the gulf and the hamlet of Capoliveri on the hillside. Our swimming pool is large, never chaotic and reserved for our guests. In the pool area it is possible to enjoy the relax of the free jacuzzi. Jacuzzi has five seats and gives the opportunity to enjoy the serenity and the beautiful view on the bay, also in the low season, thanks to the heatable water.
From 2014 our guests can rent a motor boat (40hp, you can drive it without a license).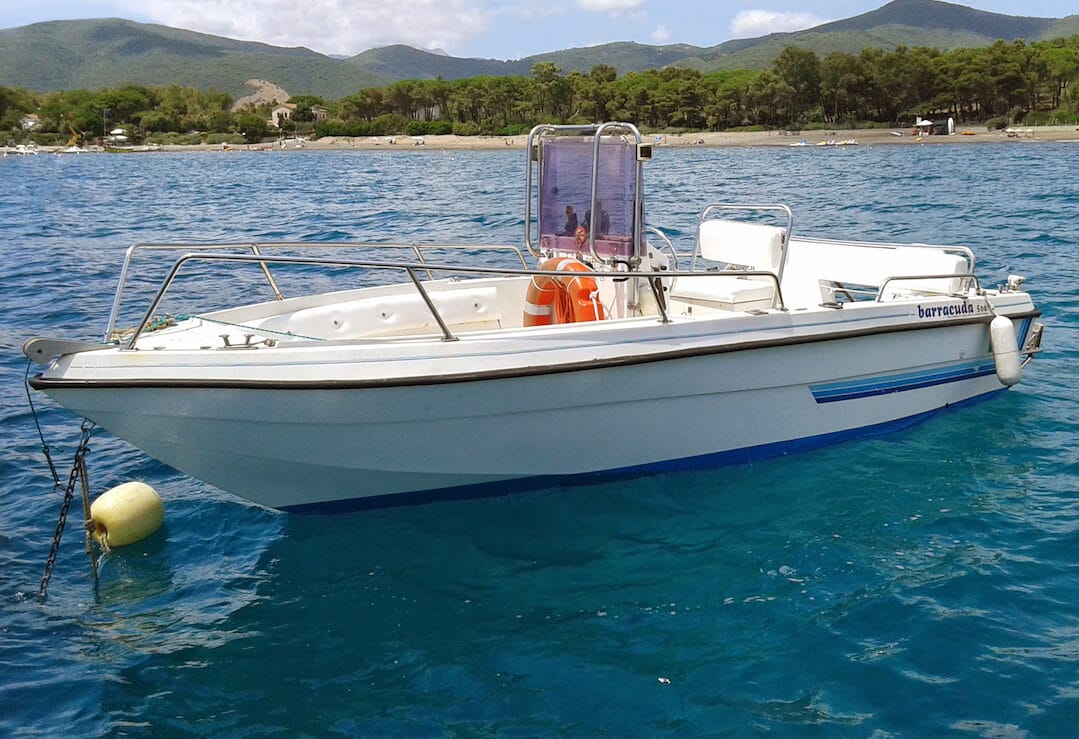 Playing sports against a backdrop of this sort is even more pleasant; canoes and pedaloes can be hired. We also have an agreement with one of the best diving schools on the island, where our guests can obtain discounts and special promotions.
The hotel also has a synthetic grass tennis court and a bowls court, which can be used for free and bike rent. Elba also has plenty of itineraries for cyclists, which provide beautiful views of nature and the sea. Golf, horse riding, trekking, cycling … these are some of the sports that can be enjoyed on the island.