Since this year the hotel Capo Sud adheres to eco-hotels of Legambiente
Since 2010 the hotel Capo Sud adheres to eco-hotels of Legambiente, the association that, since 1980, is committed to protecting the environment and nature.
So we are more careful to reduce the impact that our work has on the environment also with your precious collaboration.
So we've prepared a collection of used batteries at the reception and we have placed the bins for recycling plastic and glass and cans in different parts of the hotel.
For cleaning the rooms we primarily use green products, concentrates and "rechargeable" to reduce waste. The towels are changed at the request of guests who deposit them on the ground of the bathroom when they wish to change them. For office work we use recycled paper; toner prints are regenerated. Almost all the bulbs are "energy saving".
As for food, we offer breakfast pastries and homemade jams;. try to decrease the presence of products monodose that produce a proportionately much greater quantities of waste. Whenever possible we try to buy local food, especially fruit and fish. We have a list of organic wine and mineral water for dinner from Elba. But we avoid the presence of OGM products in our kitchen.
At the reception we can inform on the (unfortunately few) public transport on the island as well as the possibility of renting bicycles in Lacona. Environmental and cultural events organized on the island are promoted with posters and brochures. Material from the park of the Tuscan is available.
In collaboration with the Aquanautic we offer meeting when a biologist project film on the underwater life of Lacona and Elba.
We hope that all these small gestures can be a useful contribution to the preservation of our island in all its beauty today and tomorrow.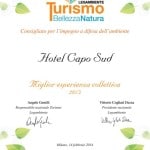 In 2014 the hotel Capo Sud was awarded along with some other structures of the Elbe "best collective experience" Eco-hotel. Tourism and environmental protection together we can!