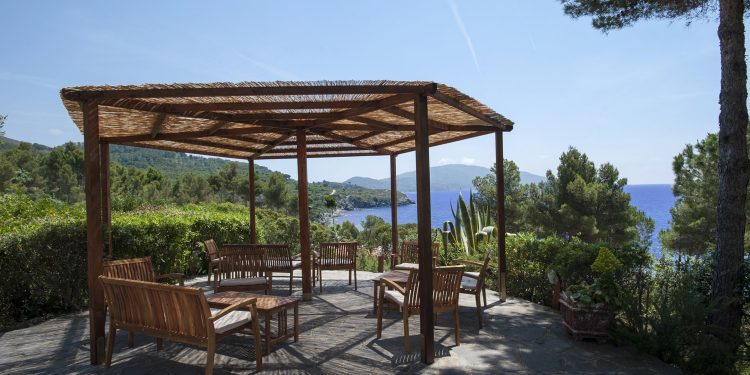 The initial part of the hotel Capo Sud was constructed in 1955 by the Di Puccio family, which still manages it today. Since then, the hotel has expanded and been renovated several times, but the reserved and amicable welcome to guests has never changed. The hotel provides hospitality in forty rooms located in small villas (that have from a minimum of 2 to a maximum of 12 bedrooms) within a park covering more than 10,000 m2 and including our own private beach.
These peaceful houses are called: la Palma, l'Eucaliptus, il Sole, l'Aleatico, la Luna, i Pini, le Mimose, l'Usignolo, il Pittosforo, il Riccio and Salvia Marina; their names were suggested by their specific positions in the green surrounds of the Mediterranean forest in which the hotel is located. Each room is surrounded by vegetation and has a small balcony or patio.
One of the characteristics most appreciated by our guests is the proximity to the sea. The three pathways leading a few hundred metres down to the private beach and the swimming pool start from the patio where breakfast is served, near the lake of the nymphs.
This is a very peaceful corner, right on the border of the Tuscan Archipelago National Park, which provides a clean sea and areas of unspoilt nature.
Our geographical position, which is central compared to the main inhabited centres on Elba, makes "Capo Sud" an excellent departure point for those wishing to visit these villages a few minutes drive away: Capoliveri and its ancient hamlet perched on the hillside, Portoferraio with its Medici fortresses and Napoleon's villas and Porto Azzurro and Marina di Campo, with their elegant shops.
For those who do not want to drive anywhere during their holiday, you can take advantage of our free parking (unguarded) and discover that there are plenty of opportunities for walks in the beautiful surrounds, such as that along the Capo Stella promontory, with its view of the sea around Elba on both sides.
For those who want complete relaxation and rest, the beauty of the island can also be appreciated sitting on a comfortable bench under the shade of a eucalyptus or under the warm sun in Lacona, reading a book from the well stocked library in the hotel.